BIOGRAPHY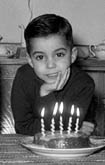 Victor Sanchez was born in Gijon, Spain, on December 17th, 1959 but he was brought up in Brussels, Belgium. From 1975 onwards, he studies at the Royal Academy for Fine Arts and in the meantime he obtains several prizes and grades. Additionally, he rounds off his studies by taking sketching courses at the Watermael-Boitsfort Academy. He also attends Mr. Debie's drawing course at the Anderlecht Academy.
He graduates in 1980 and completes his pictural and technical skills at the Laeken based Brussels School for Photography. Meanwhile he begins his career in the graphical and audiovisual fields.
In 1990, he opts for a freelance activity and works with several advertisement agencies. Unanimously praised for his impeccable technique and excellent work, he specializes as a hyperrealist illustrator.
After participating to his first collective exposition in 1992 at the "Passage 44" in Brussels, the artistic talent that lay dormant in him suddenly unfolds. Since then, the expositions follow one another: Citadelle of Namur (1994), Galerie du Nid d'Aigle in Profondeville (1995), Art Cadia Gallery in Brussels (1996), Galerie des Tanneurs in Namur (1997), International Centre for Contemporary Art in Liège (1998), Fantastic Film Festival in Brussels (1999), Fifth Biennial Event of the "Rencontre de l'Art Bruxellois" (2000), Intercontinental Hotel in Brussels (2001), G-Loft Gallery in Brussels (2003), etc.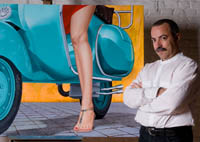 His poetic and surrealistic art is favourably singled out by renowned art critics such as Stéphane Rey and Anita Nardon. He is quoted in numerous reference books, amongst which Paul Piron's most famous "Dictionnaire des Artistes Plasticiens de Belgique" and the "Annuaire des Artistes et Galeries de Belgique". However, he still keeps a critical eye on his art. As an untiring perfectionist, he first exploited the subtle eroticism of veiled bodies and now reinvents his own Hyms to Feminity with an art that resolutely strays from the beaten track.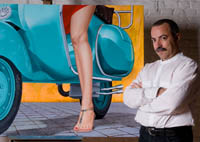 <! --- bio --->